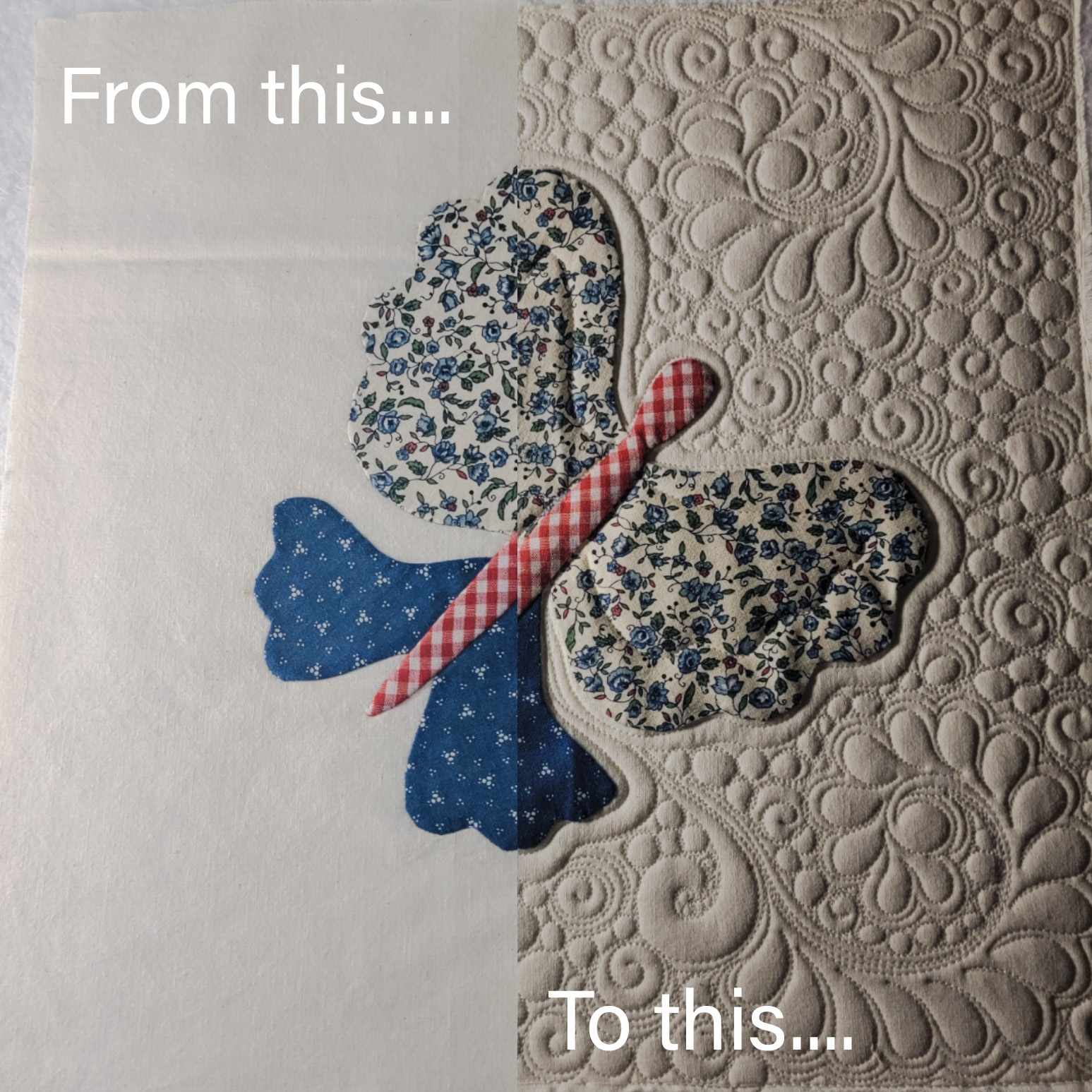 Background Fills
$85
I'll walk you through all the steps to creating beautiful backround fills!!
Over 4 Hours of content
Learn over 9 designs to mix and match!


Adria Good
Longarm Quilting Courses
Welcome!
*Purchase the course of your choice to access the content.
*Scroll below for information about your instructor, available courses and upcoming courses!
*Lifetime Access
*Self-Paced
*Downloadable Videos
Please
Opt in to emails so you can get updates on Giveaways and updates!

Check your inbox to confirm your subscription

Recommended Order of Courses:
OR Feel free to pick and choose!
-------Beginner-------
Build Your Portfolio Part 1
Build Your Portfolio Part 2
Build Your Portfolio Part 3
Simple Borders
Echo Quilting Part 1
Echo Quilting Part 2
Beginner Feathers
Beginner Custom Quilting and Free Patterns




-------Intermediate Level-------

Intermediate Feathers
Feathers in Shapes
Background Fills
Dream Big Panel Quilt-a-long Longarm and Sit-Down available!
Click on a course below for more info!
* FREE Butterfly Course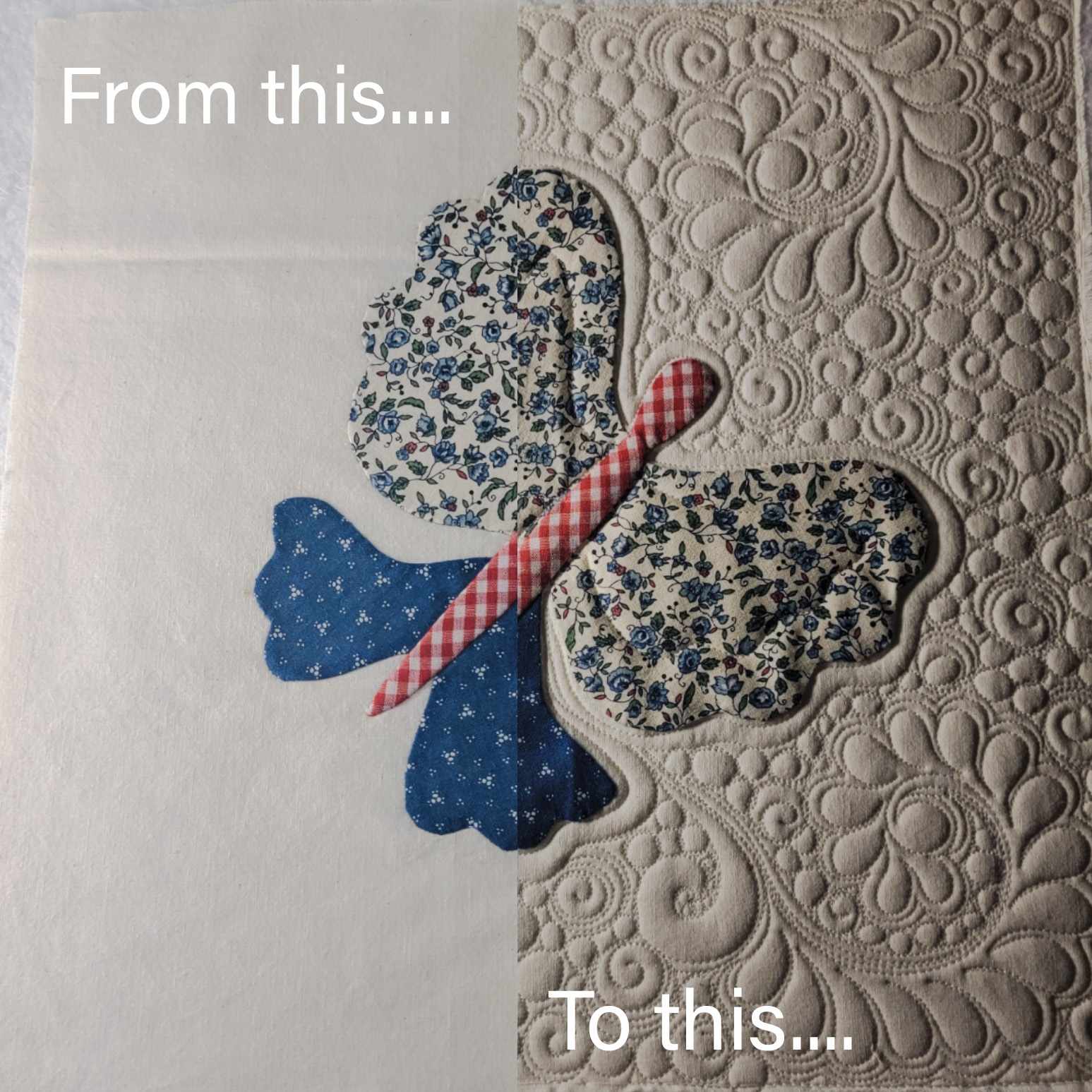 Nov 2023
Background Fills- Advanced Course
Pebbles, Swirls, Curls, Peacock. Feathers, Outlining, Echoing and more!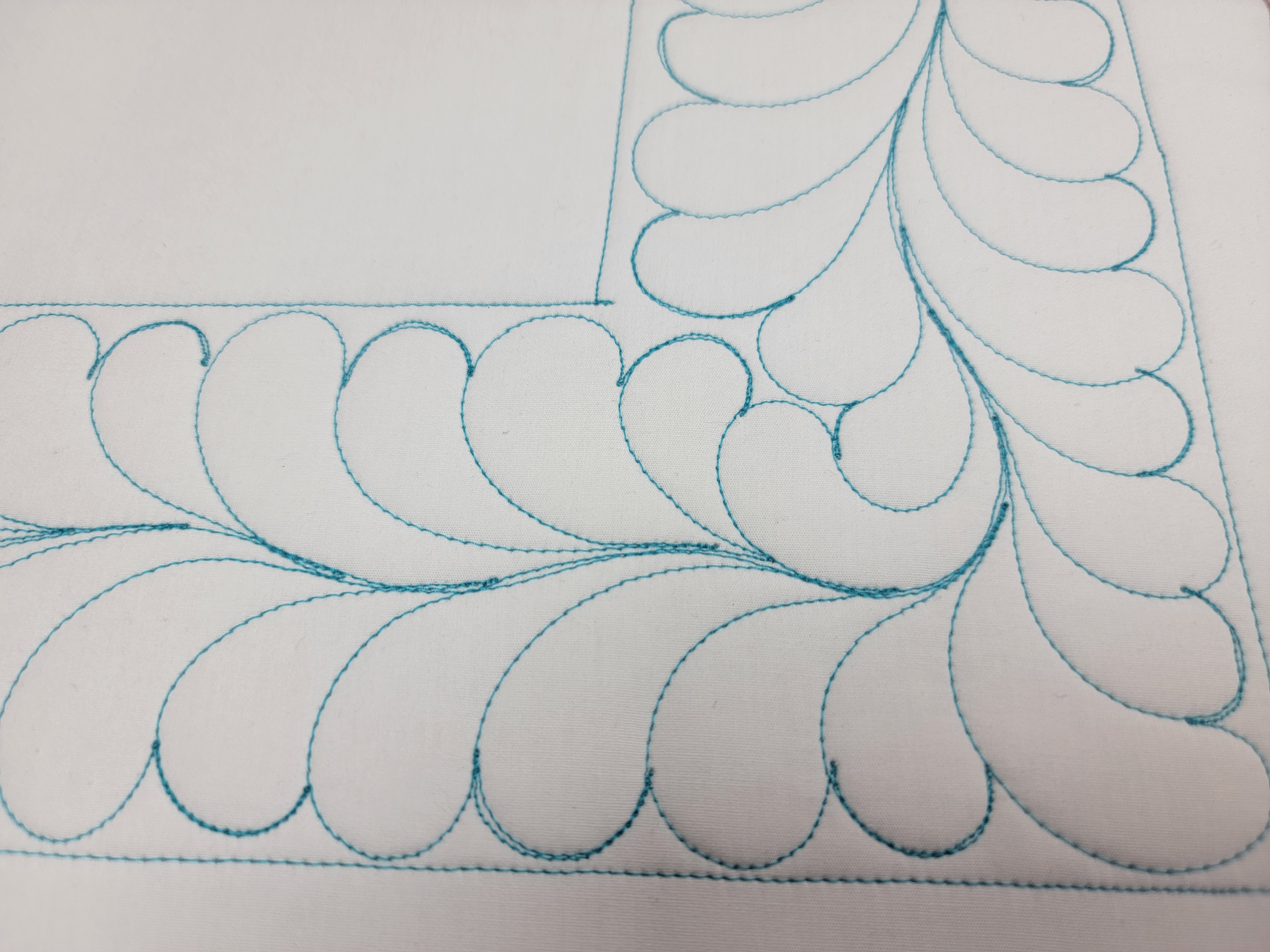 November/Dec 2023:
Beginner Feathers for Sit-down Machine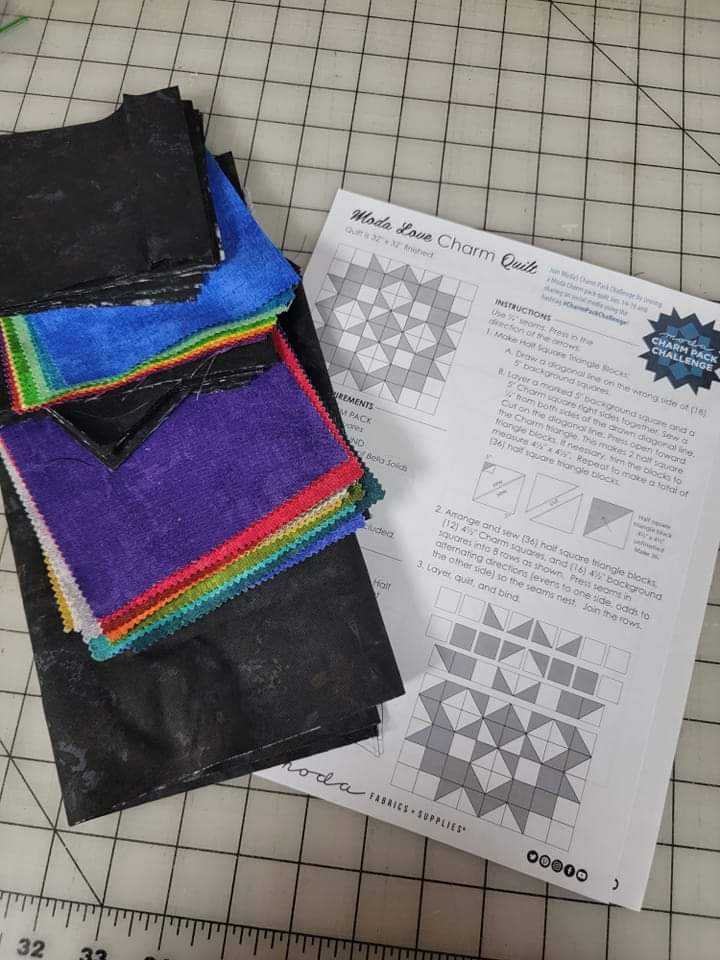 2024
Quilt-A-Long
Moda Love Charm Quilt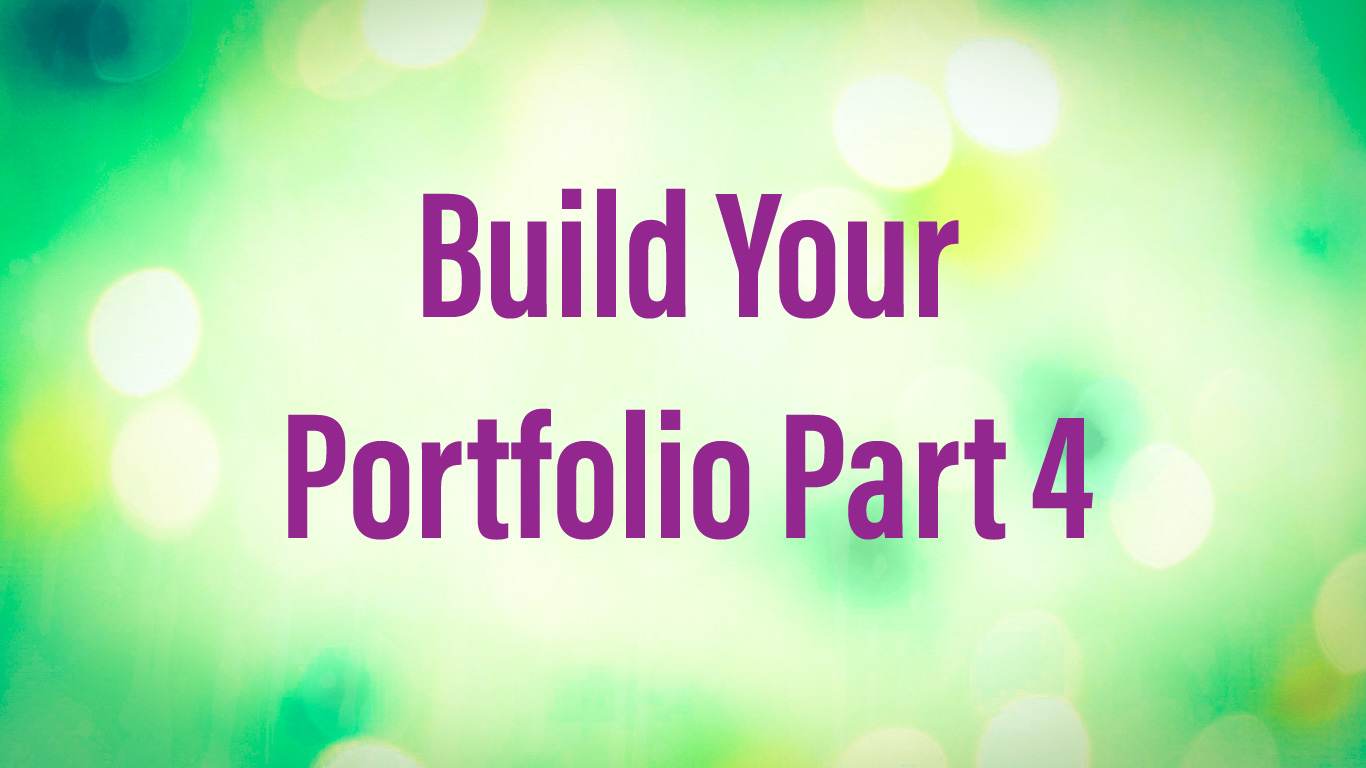 *Courses listed above are subject to change. More info will be added as courses get closer to launch date!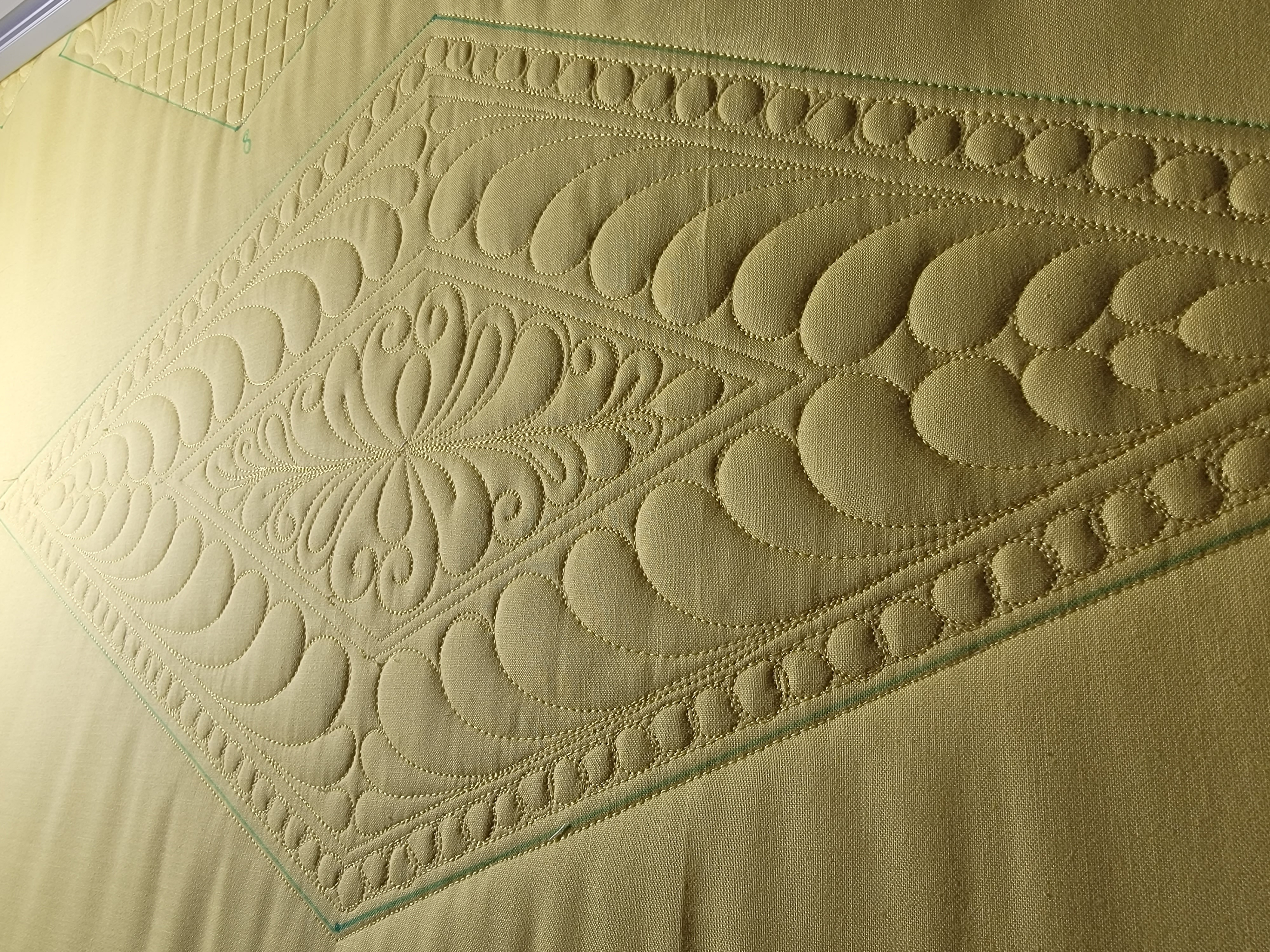 Feathers in Shapes
$85.00
(plus tax where applicable)


Over 4 hours of content

We will be fitting feathers into all of these shapes: Squares, Triangles, Rectangles, Hearts, Diamonds and Orange Peel. These will all have multiple size shapes and will range from simple to custom.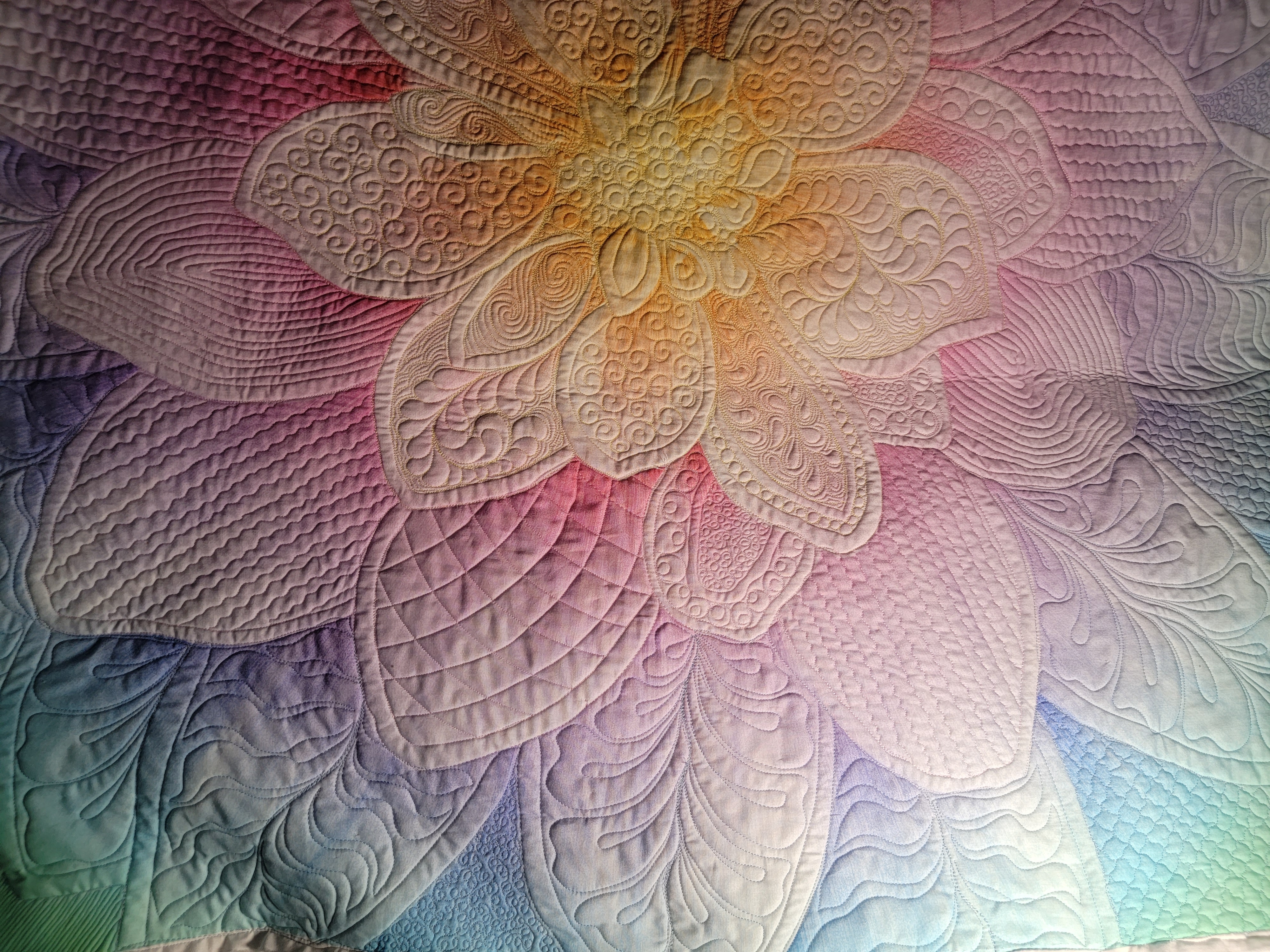 Hoffman Dream Big Panel
Quilt-A-Long Online Course
(Sit-Down Machine Quilting)

Now Available!!
$65.00
Over 5 hours of content

Dig out those panels or get one ordered!!! I'm so excited to do this Quilt-a-long!
We will be completing this panel from start to finish!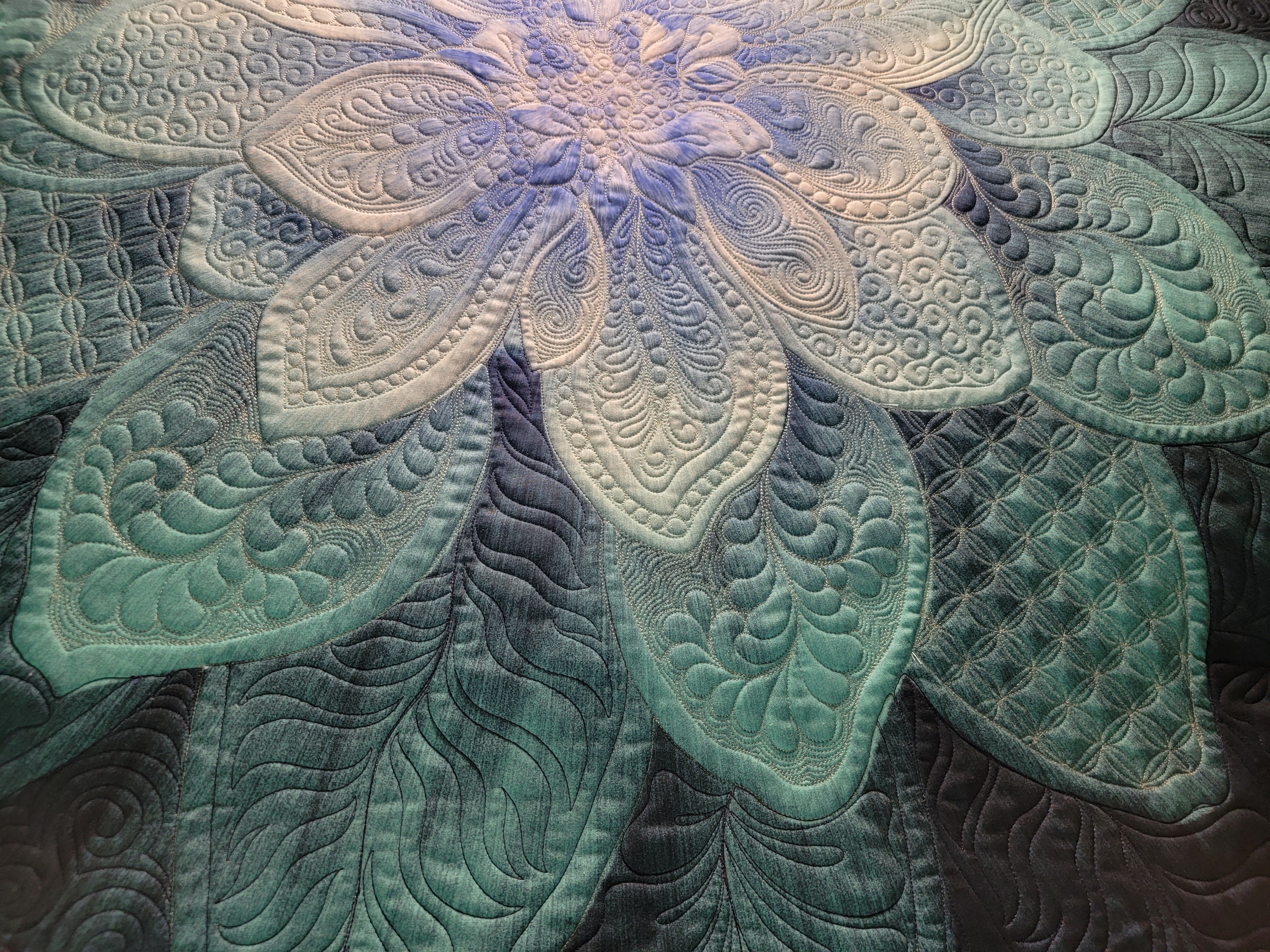 Hoffman Dream Big Panel
Quilt-A-Long Online Course
(Longarm Quilting)
Now Available!!
$65.00
Over 4 hours of content

Dig out those panels or get one ordered!!! I'm so excited to do this Quilt-a-long!
We will be completing this panel from start to finish!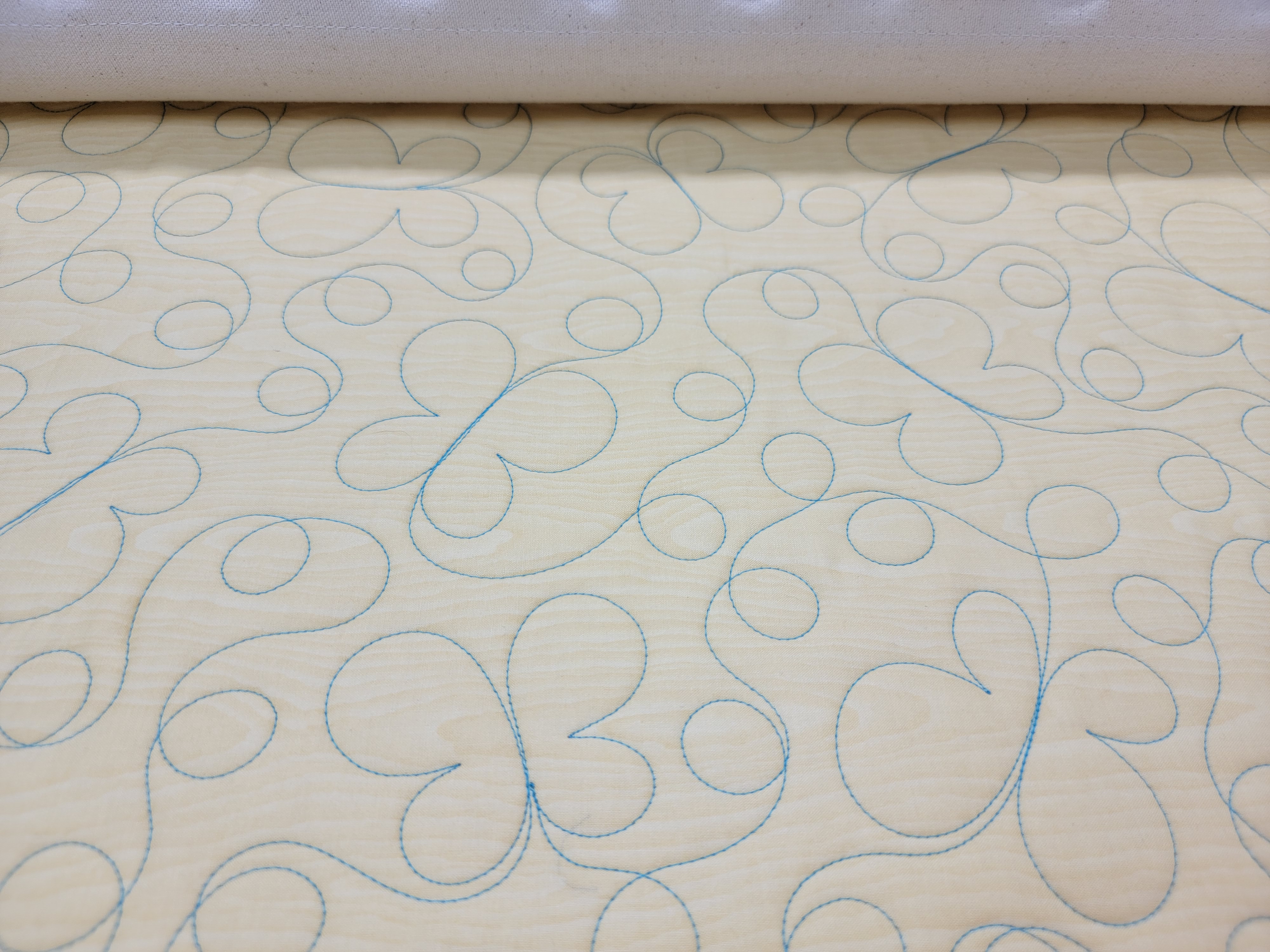 Free Mini Course-Butterfly Design
Yes! It's Free!!
Come check out the FREE Butterfly Design in this Free Mini Course. This course is the same basic format as all my other courses.
Approximately 40 min long! Instruction and tips to help you become a confident longarm quilter!!
Find this course in the Course Directory in the bar at top of this page.
Sit-Down Quilting video has been added!!!





Email me with any questions!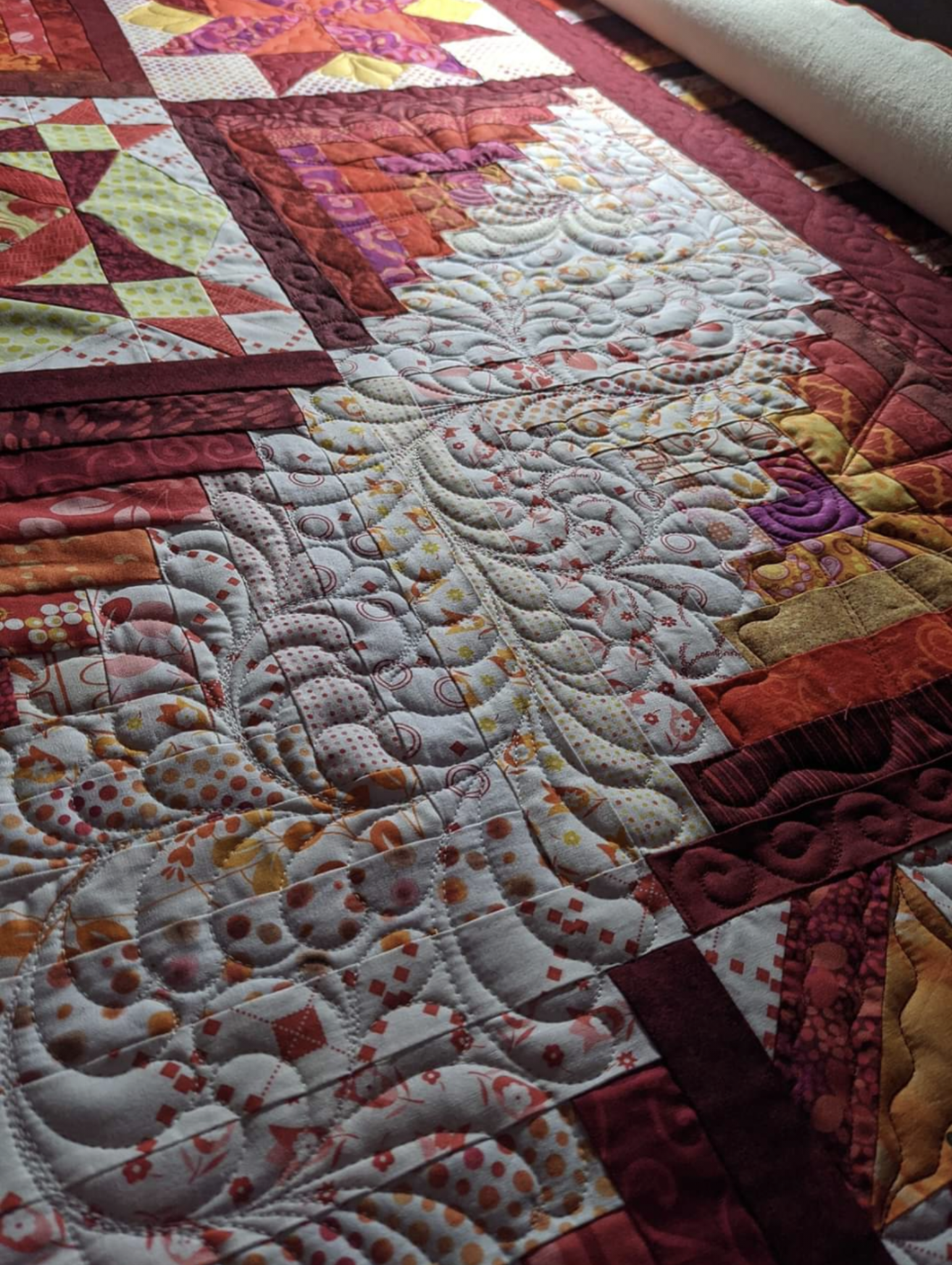 I'd like to take you on this journey from Meander to awesome Feathers!!
We will start with the basics in Build Your Portfolio: Free Motion, Longarm Quilting for Beginners Part 1. Then, we will continue to add more designs with Part 2. By the time you finish Part 3, you will have an impressive Edge to Edge Design Portfolio to show your customers!! They can choose from a wide variety of designs for their quilt.
Build Your Portfolio
Part 1, 2 and 3.
My goal is to help you build a portfolio of quilting designs. Whether you are starting a business or quilting your own quilts, these courses will help you improve your skills, and you will learn tips and tricks along the way!
- Adria Good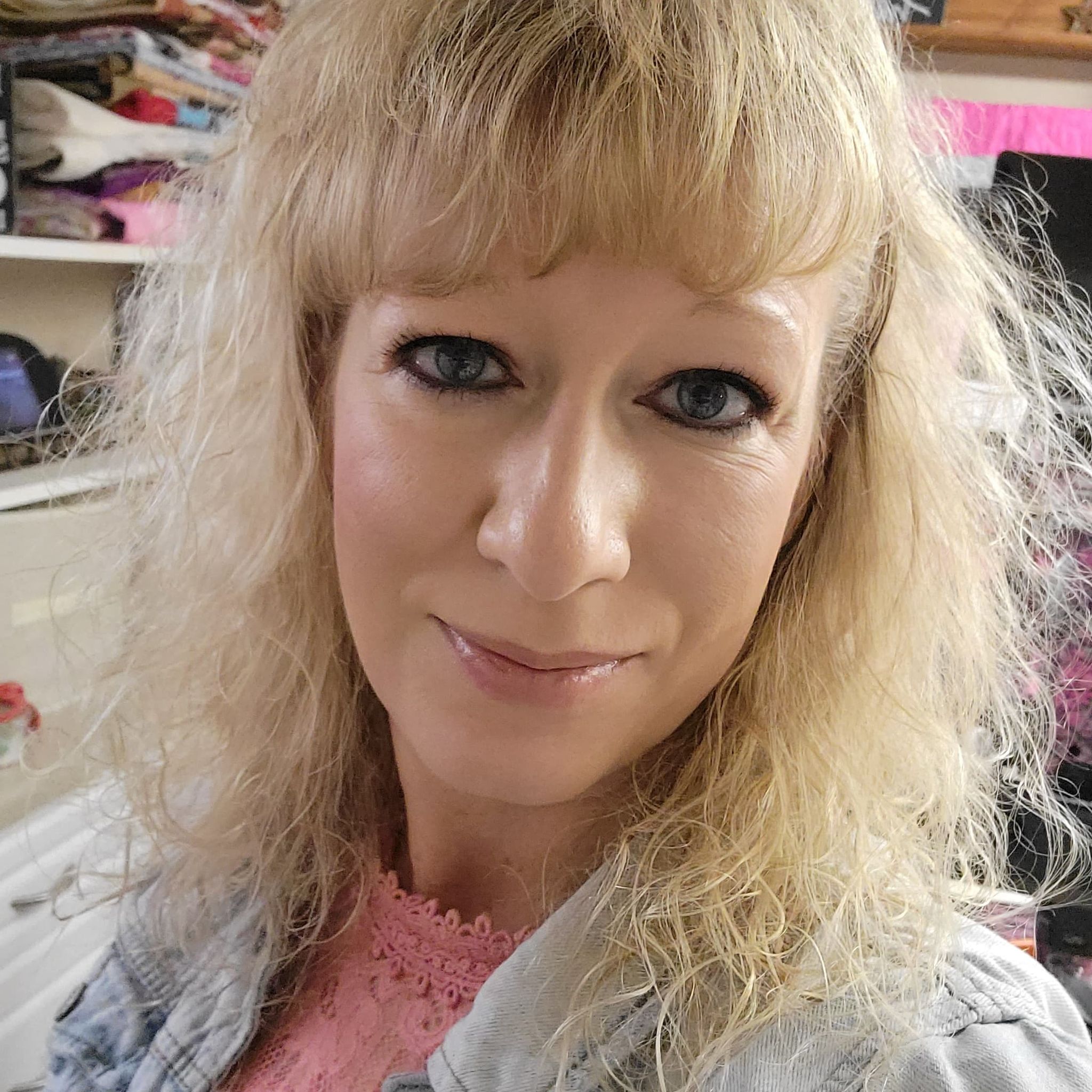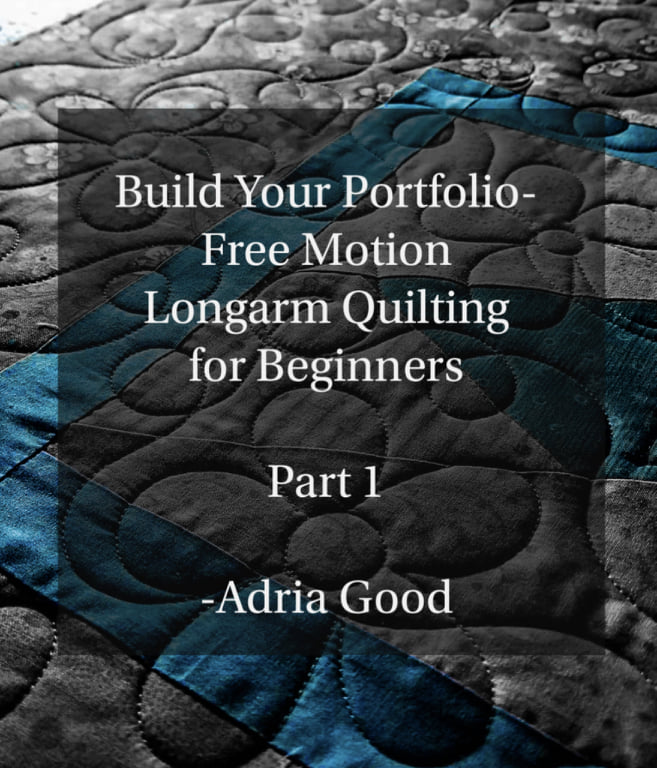 Part 1
You will learn 7 designs in this course. We will start at the beginning with Meander. Then move on to Loops, Leaves, Flowers, Swirls and Stars. By the end of this course you will have a wonderful display of your designs. (Approx 4 hours)
$65.00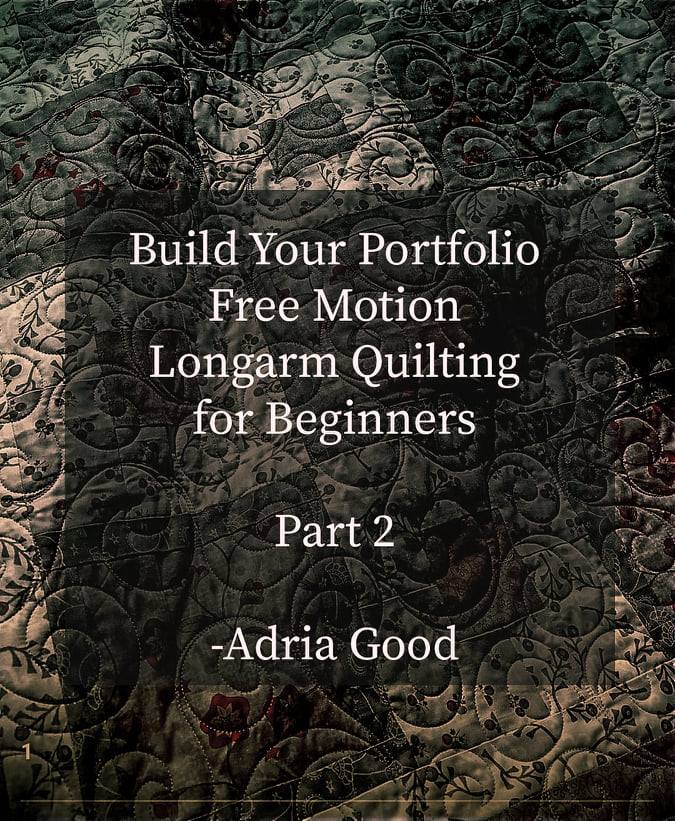 Part 2
8 More designs! Ribbon, Double Bubble, Clouds, Curls, Rose, Clover Flower, Wiggle Worm and Wilted Flower. You are on a roll and on your way to providing a large assortment of designs to your customers! (Approx 4 hours)
$65.00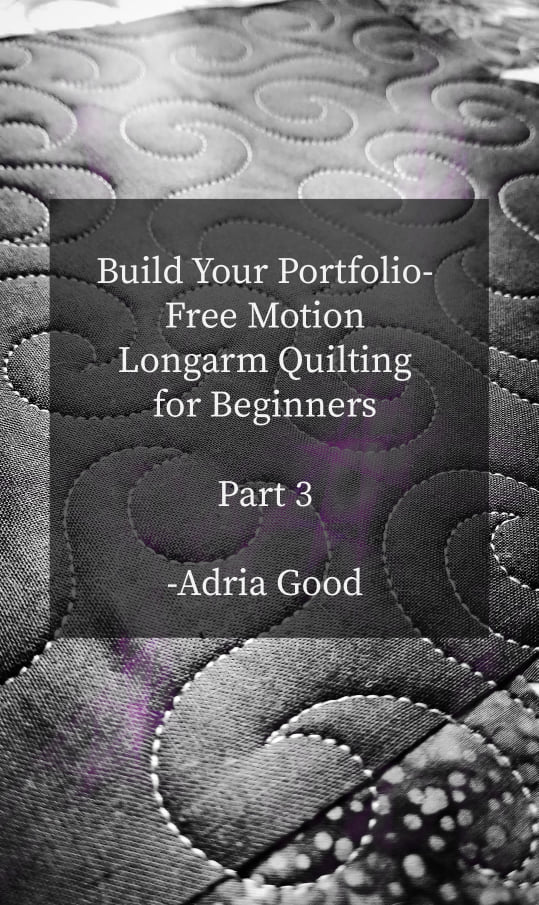 Part 3
After you finish this 3rd course in this series you will have a complete assortment of designs to offer customers! Mix and match designs and get creative! There will be 8 more designs taught in this course. Gears, Snowflake, Cs, Hearts, Pointed Flower, Geometric, Pansy and Holly.
(Approx 4 Hours)
$65.00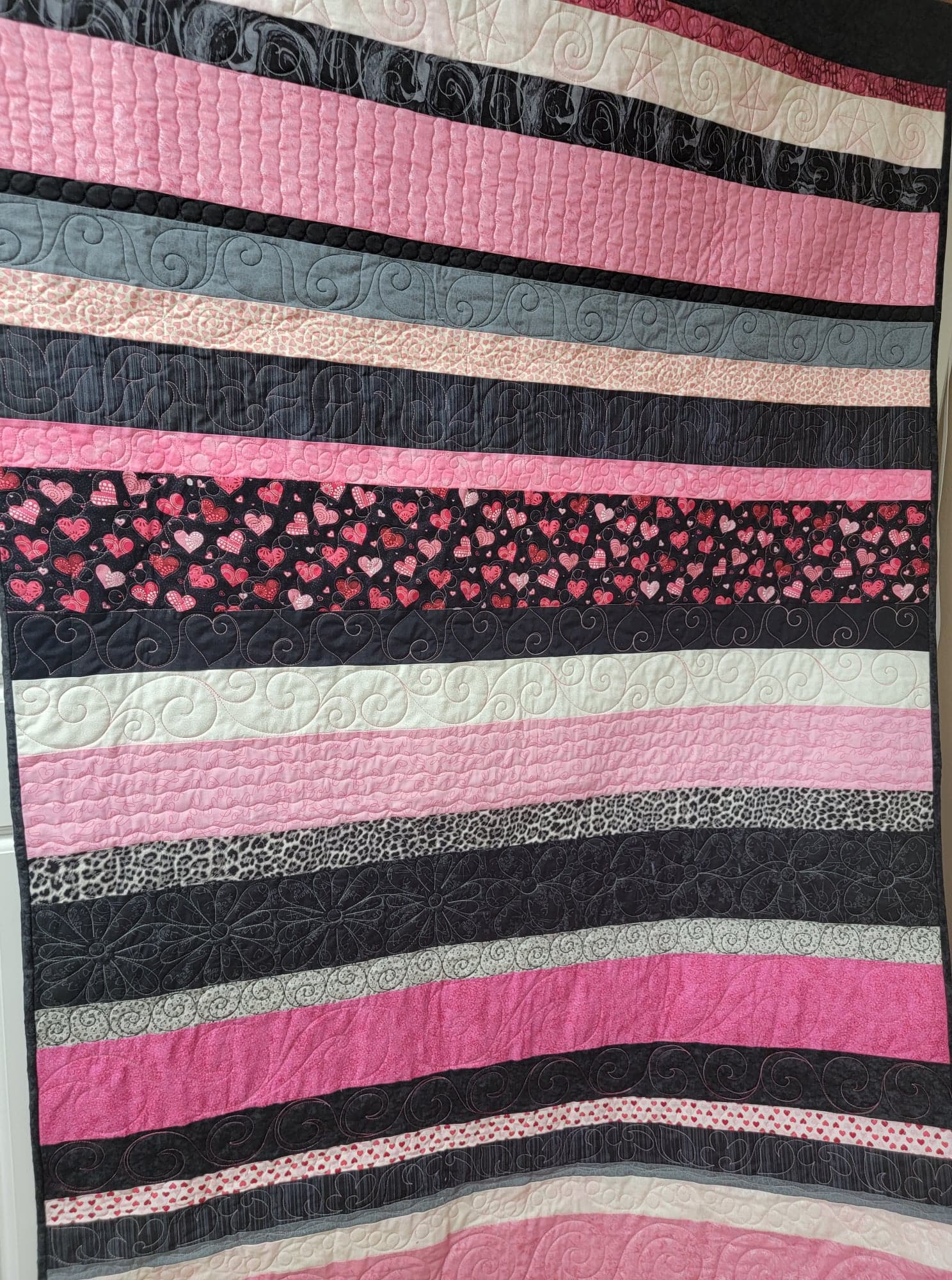 Simple Borders Course
Part A-$65
Part B-$65
Bundle Deal -$115
(More Info on the sales page)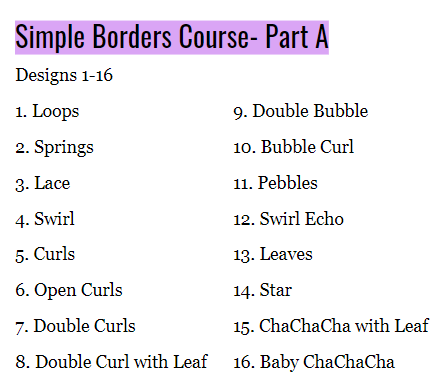 This Strip Quilt
is a great way to practice and showcase your
Border Designs.
Cutting instructions for this quilt are included in the course.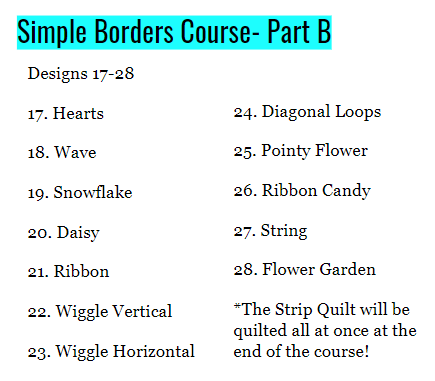 There will be
drawing practice
, PDFs and more practice on the
Longarm
. When you are ready and your quilt top is pieced, you can
Quilt Along
with the videos for this strip quilt at the end of the course!!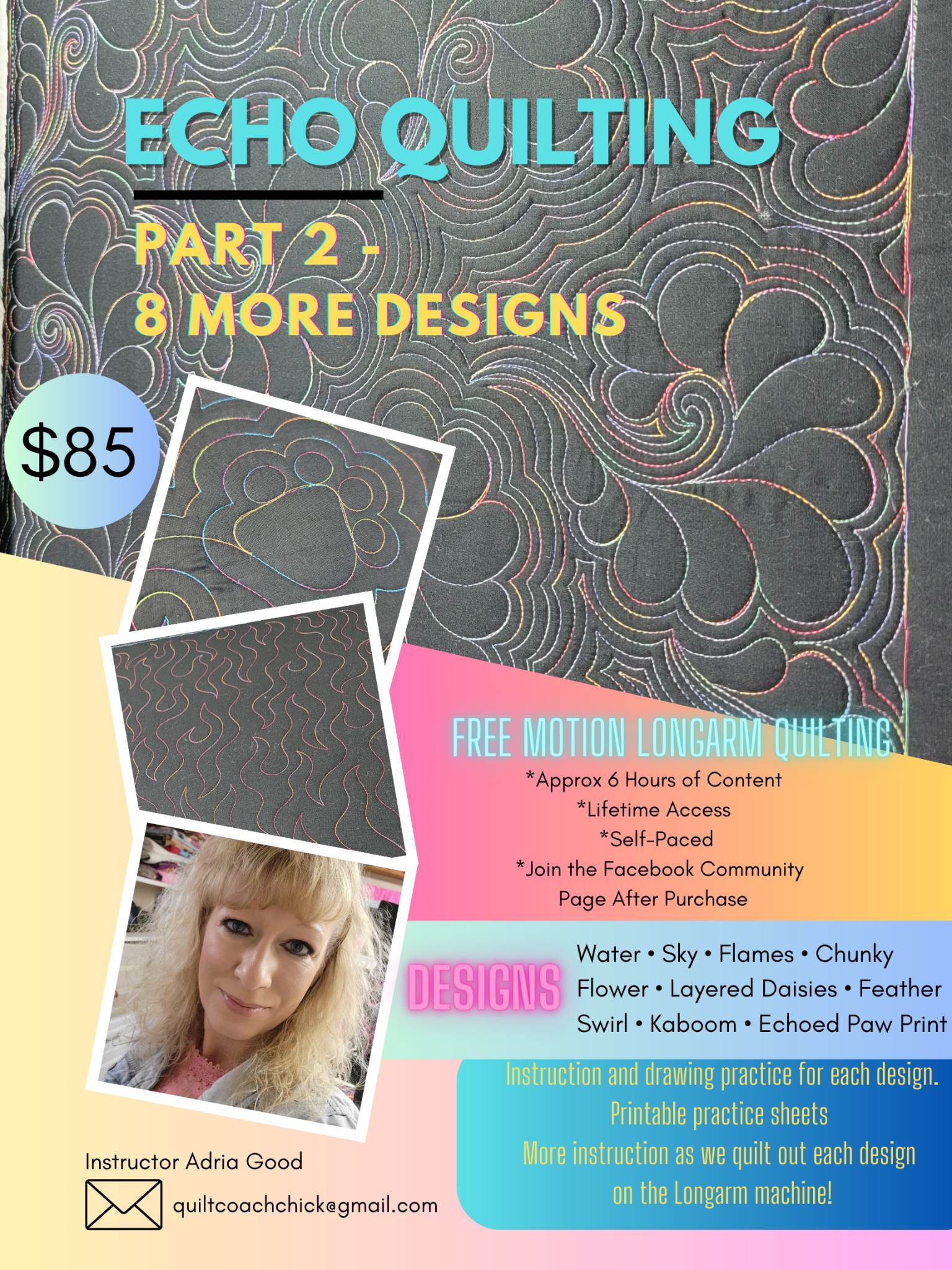 Everyone loved Echo Quilting Part 1 so much that I just had to create Echo Quilting Part 2!! There are 8 more echo designs taught in this Online Course.
Work at your own pace, no time frames or schedules!!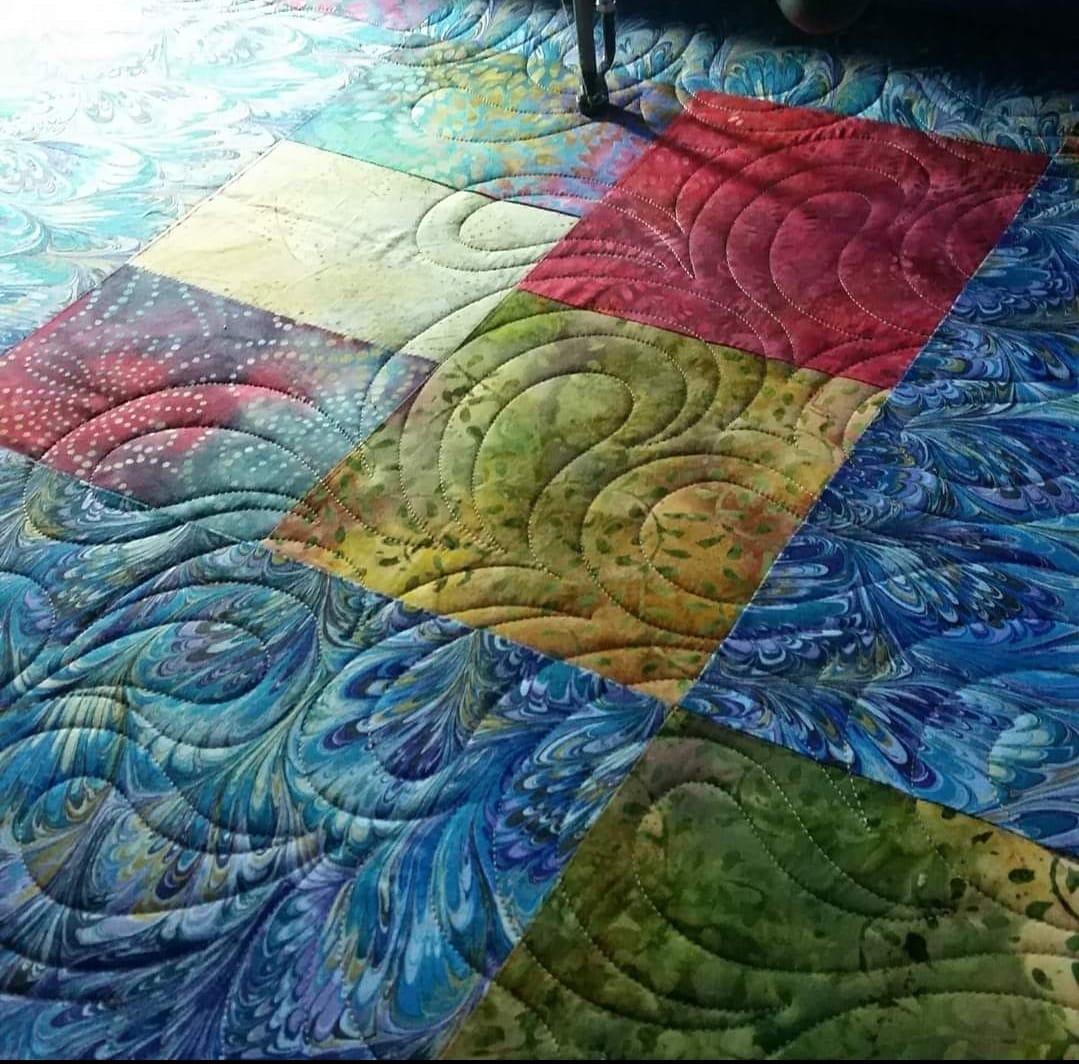 Echo Quilting
8 Simple Designs
$85.00


Echoed Flower
Peacock (Pictured here)
Paisley
Echo Swirl
Echo Feather Medley
Hearts Echo
Medallions
Woodgrain

These echo designs are
perfect
for all over quilting. It's a nice change from all over designs that are considered string designs, like the designs in the Build Your Portfolio Series.
Any
of these echo quilting designs can be made larger or smaller to fit your desired effect. They make great large edge to edge designs if you need to get a quilt finished
quickly
. They also make awesome background fills for behind applique blocks.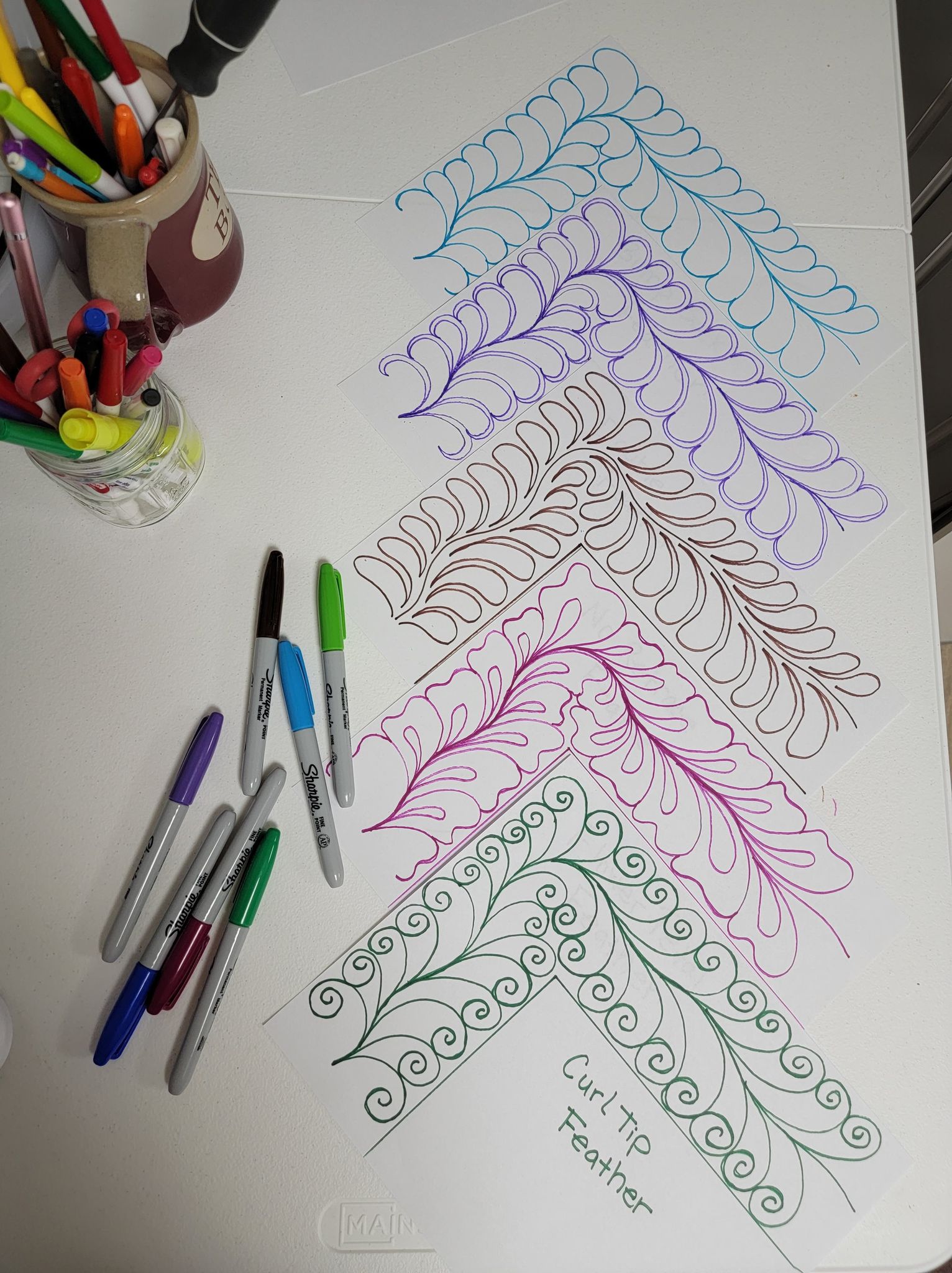 Beginner Feathers
$75.00
Feathers are so beautiful! I'm excited to teach you 5 different versions of Feathers in this course.
Bump Back Feathers
No Retrace Feathers
Double Feathers
Curl tip Feathers
Flower Petal Feathers
Each type of Feather will have lots of instruction.
We will draw each Feather on paper and/or white board.
Then we will quilt out each design on the longarm!
Learn about the shape, size and spacing.
We will also talk about troubleshooting issues that may come up while creating your Feathers.
Wouldn't you love to quilt Feathers STRESS FREE!!
Yes, it will take some practice,
but you will have all the instruction you will need to
Free Motion quilt beautiful Feathers!!
Let's Go!
Intermediate Feathers
$85.00
Feathers are my favorite!!
I suggest you take the Beginner Feathers Course before taking the Intermediate Feathers Course. If you already have experience creating and quilting feathers then this course is for you!!!!
This course will be a bit challenging but also so rewarding in the end! Learn all you need to know about these beautiful feather motifs!!!
Be sure to take some before and after pictures of your feathers!
Designs included in this course:
Feather Wreath 1/Feather Wreath 2
Feather Fill
Curvy Feather Border
Curly Feather Border
Peacock Feather Border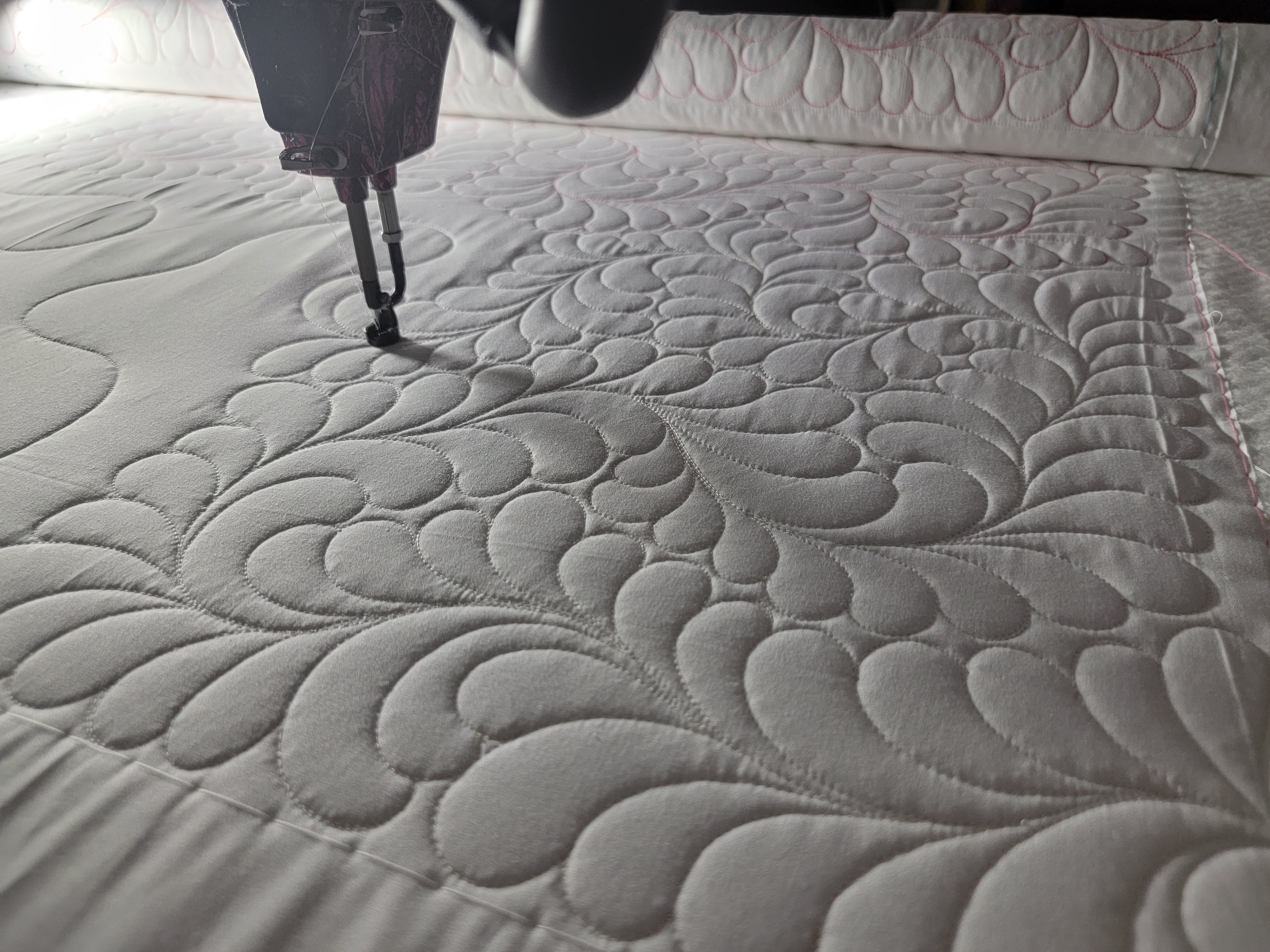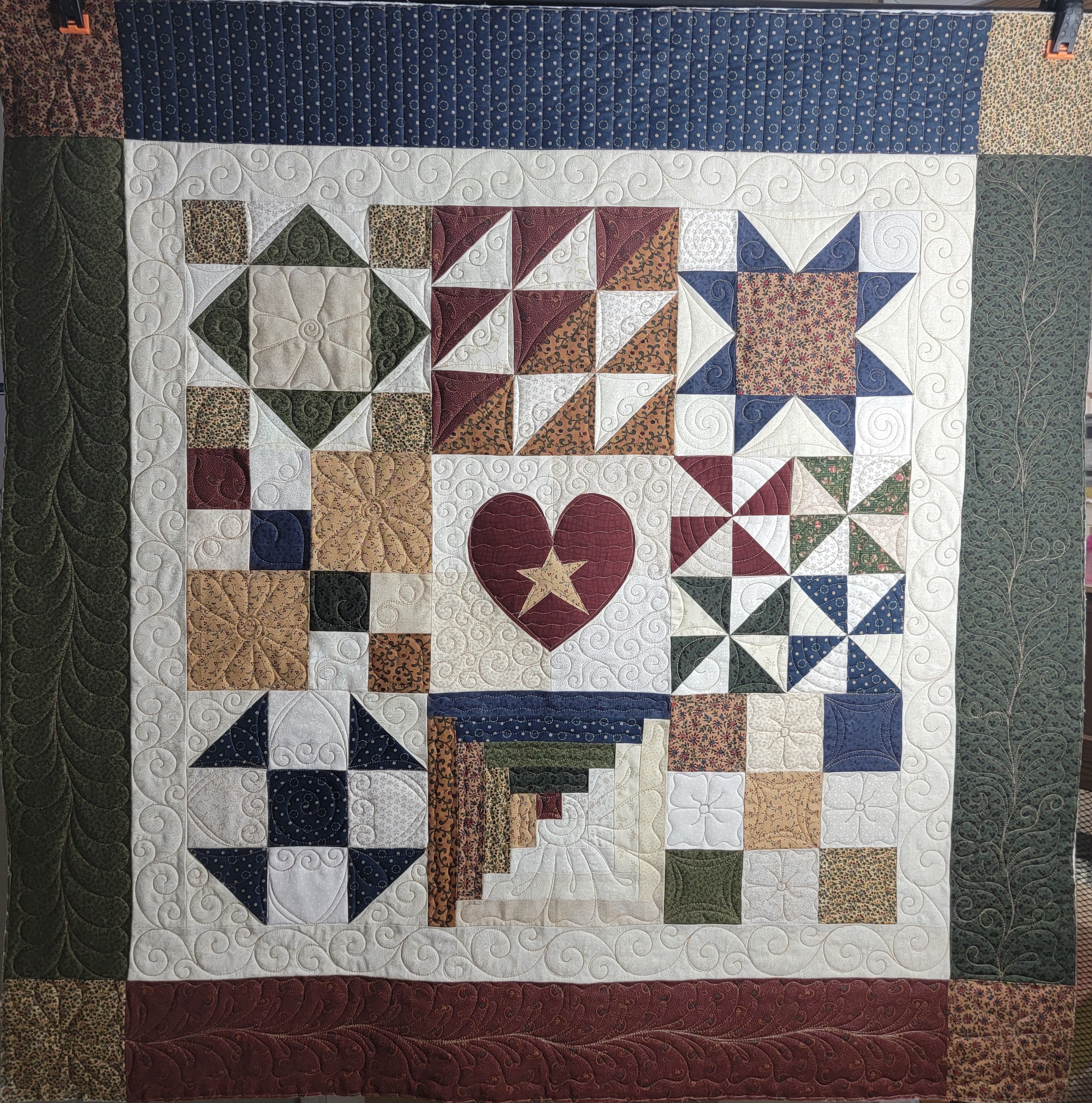 Beginner Custom Quilting
$85.00
-Free Motion Longarm Quilting
* FREE Patterns for the Beginner Custom Quilting Course are available in the Directory

I can't wait to walk you through the process of deciding what custom design to quilt on your beautiful quilts.
There are a few chats that we will have at the beginning of the course.
We will look at 7-8 different quilts/quilt tops and discuss quilting options and why I choose certain designs.
Then quilt along as we quilt this beautiful Wall Hanging on the longarm!
There will be a Worksheet to print out that will help you through this process of decision making.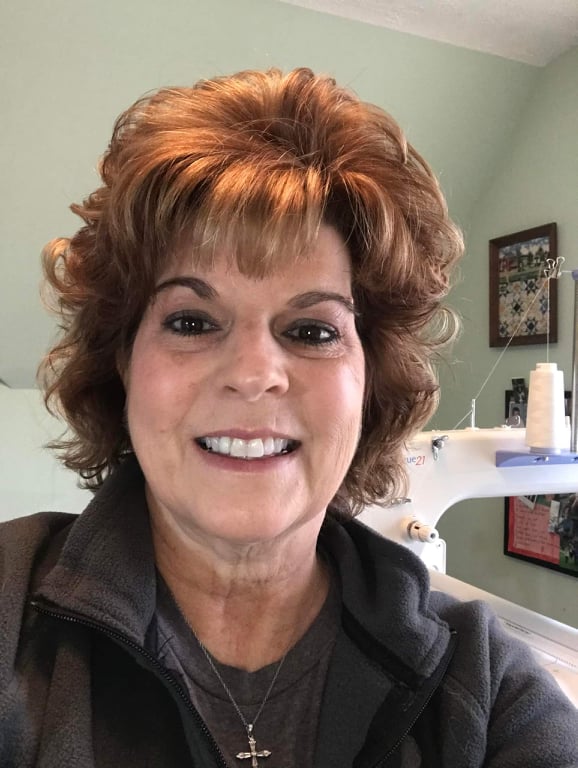 Testimonial
These courses are awesome!!
I have a business that I started last summer but have only been able to offer meandering. These courses are easy to follow and Adria is an amazing teacher. She takes questions and offers ways to better your quilting. She critiques in a helpful way and gives us hope that someday, with practice, we will have flowing patterns across our quilts.
The cost is incredible! With all the help and interaction you receive, the cost is VERY minimal! I have improved immensely! Adria shows you step by step from demonstrating, practicing on paper to going to the long arm and bettering our skills. Thank you Adria!!! I look forward to taking all the classes! You are an amazing teacher and just a good human.
-Charlotte